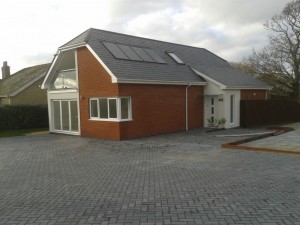 4 Panel in-roof system, Northwood.
We aim to cater for a wide range of solar  PV applications, large or small, on or off grid, conventional or otherwise.
We offer our customers a selected range from across the market place which we tailor according to their needs.
We also carry out a range of fault finding and repair services for clients suffering issues with existing installations from other installers.

Dark or black panels and frames

In-roof and roof integrated systems for superior looks and style

Low ballast systems for flat roofs

Field mount systems

Choice of black or natural aluminium conventional mounting kit

Welded mounting for Alwitra coverings with warranty

German manufactured inverters for durability, service and quality warranteed up to 25yrs

European PV panel manufacturers including UK with 10yr manufacturing cover & 25yr performance guarantee

Quality ancillary components – UK manufactured cable, isolators and switch gear.

Electric vehicle (EV) charging points

Semi transparent panels for commercial applications or new build

Solar i-Boost 

Battery storage solutions

Fault finding, repair, maintenance & warranty work
For more information on how installing solar PV can benefit you and to book a no obligation appointment, call us on: 0781 0844 268 or e-mail via this website.
Roof integrated PV