** New to the market –
Bi directional charging points for Nissan and Mitsubishi!
Power your house from your car with a bi directional charging point.
We now offer three levels of car chargers:
Basic – simply plug your car in and charge
Zappi – charge your car from your solar panels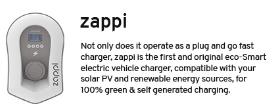 Quasar – charge your car from your solar panels by day and release energy back into your home at night
Combining safety with style. Outdoor service points for charging electric cars, bikes, and scooters. Suitable for home, commercial, leisure or marine.
Many charging points are now available and it is important to seek advice on which is correct for you. Some require special power supplies while others don't. Speed of charging also varies too.
EV's – We can install domestic chargers for eligible electric and hybrid cars under the OLEV grant scheme, meaning you could have a dedicated charging point installed under the scheme for as little as £250. Shops, offices, councils and other commercial enterprises can provide charging points for staff or customers and also benefit from funding under the Workplace Charging Scheme grant. For more information click on: www.gov.uk/government/collections/government-grants-for-low-emission-vehicles.