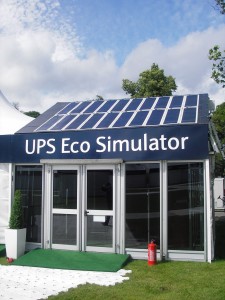 Six months ago thoughts of building a portable solar generator were pure fantasy until an unexpected commission by parcels" giant UPS turned fiction into fact.   
The project brief was to design a system using solar PV panels that could be set up on the roof of a marquee and power an extensive array of equipment within. To the uninitiated all this sounded easy. As one commentator remarked, "I"ve seen loads of these things on the roofs of houses, how difficult can it be?"  The reply that first came to mind is unprintable, the second was that we would see what we could do within the very limited time we were given – two months from start to finish.   
In the end the finished design used 20 light weight solar PV panels used for marine applications and a casinoustenoon.com bank of batteries to absorb energy when the generator was not in use while supplementing its output in times of very low light, something that became synonymous with its installation!   
On its maiden voyage at Wentworth back in May the day on the Island started bright and cheerful enough, but as the motorway miles increased in a north easterly direction, so the clouds started to thicken. On site, things became even worse when it was found that the marquee the installation was to be sited on faced north! As the day wore on, the clouds continued to thicken until the heavens open with a torrent. Fortunately, the solar panels chosen have excellent low light performance and were merrily churning out electricity even at a gloomy 7pm when the road to Southampton beckoned.   Ironically, as the ferry departed the sun broke through, providing a spectacular sunset over the docks.   
Pictures below show the generator in brief glimpses of sun shine at other venues.  

Climate Change Minister sets out vision for local energy economies (Press Release)
"I want to see more homes, communities and businesses generating their own energy. We can literally bring power back to the people. "(Climate Change Minister, Gregory Barker)
Press Notice: 2010/079
12 July 2010
Climate Change Minister Greg Barker is today launching the first stage of the Government's plans to help communities become more self-sufficient in the way they use heat and power.
Empowering communities to generate their own energy on a large and a small scale can not only bring in an income but also help save money on fuel bills and increase domestic energy security.
Homes, schools and businesses are already guaranteed cash payments through the 'feed-in tariff' for producing their own green electricity through technologies such as solar panels or small About The Mount Sinai Medical CenterMount Sinai best-driving-school.com of Medicine is internationally recognized as a leader in groundbreaking clinical and basic-science research as well as having an innovative approach to medical education. wind turbines, as well as for selling it to the national grid.
Around 100,000 homes and organisations have installed this kind of technology so far.  The Government wants to see what more it can do to help develop the industry, create more job opportunities, and make sure customers can trust the green technology they buy.
Greg Barker said:
"I want to see more homes, communities and businesses generating their own energy. We can literally bring power back to the people.
Microgeneration is a key part of this vision.
"By becoming more self sufficient we can create sustainable local energy economies. People and communities can save money on their fuel bills at the same time as generating an income and cutting carbon. I want to work with industry to overcome the challenges it is facing. Together we will create a marketplace for jobs and prosperity alongside products and advice which people trust."
The consultation on the Microgeneration Strategy will look at four key areas for development:
Quality: ensure consumers have confidence that equipment and installation is reliable and adheres to the highest standards;

Technology: examine how to improve products through more trialling of technologies new to the UK;

Skills: develop the microgeneration supply chain to ensure it is properly equipped with the right people to meet the expected rise in demand, as well as creating and sustaining jobs in the UK;

Advice: provide more accessible advice and information about microgeneration to homeowners, communities and small businesses.