PV panels designed to integrate with modern roofing tiles.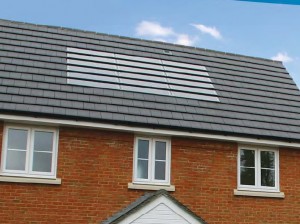 Designed to integrate with a wide variety of concrete and clay based roofing tiles from manufacturers such as Marley and Redland, these PV units weigh in at just 7Kg, substantially reducing  the roof loading weight by over 30Kg per square meter.
More importantly, solar PV enables designers and builders a like to achieve ever more stringent SAP targets for energy efficiency being introduced and often at a fraction of the cost to counter such requirements using other methods such as adding even more insulation or fitting even higher specification windows. With one stroke, a whole raft of expensive and time consuming measures can be swept away leaving you to get on with what you do best.
Tiles are fully MCS accredited. They are available in dark grey/blue and terracotta. When fitted in combination with Imery large format clay tiles they offer a 30 year anti corrosion guarantee, 30 year weather-tightness guarantee and 25 year performance guarantee.
Integrated solar PV costs a little more but looks a whole lot better. If you are a developer or looking to sell on your property, having a smart, fully integrated system will set your property apart from the rest, adding value and reassuring your clients that you care about quality.
Oakwood Energy Systems can supply and fit the whole roof as one package, including all edge and ridge tiles, or we can work with your existing team carrying out as much or as little work as is needed.