Stylish canopies and carports with dual purpose functionality.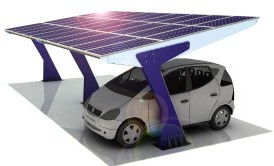 A Canopy with 15 solar panels can produce enough electricity in a year to power a small to medium size family car over 13,000 miles making a green car truely green. When not charging a car the electricity can provide power for your house with any excess energy being fed back into the grid for the benefit of others. Using MCS accrdited panels it qualifies for the government backed Feed in Tariff scheme payments making it a worthy long term investment.
Charging canopies can be single, double or linked together for larger commercial size applications. Businesses can attract clients to their premises to charge their vehicles while they shop whilst generating a further income via the government Feed in Tariff scheme and cutting their own energy bills. A variety of charging outlets can be installed to suit all makes and models of electric cars, bikes and scooters.